INFORMATION FOR HEALTHCARE PROFESSIONALS
Head lice affect millions of people every year.1 Although head lice do not cause medical problems, infestations can lead to concern among parents, as well as embarrassment, social stigma, and missed school days.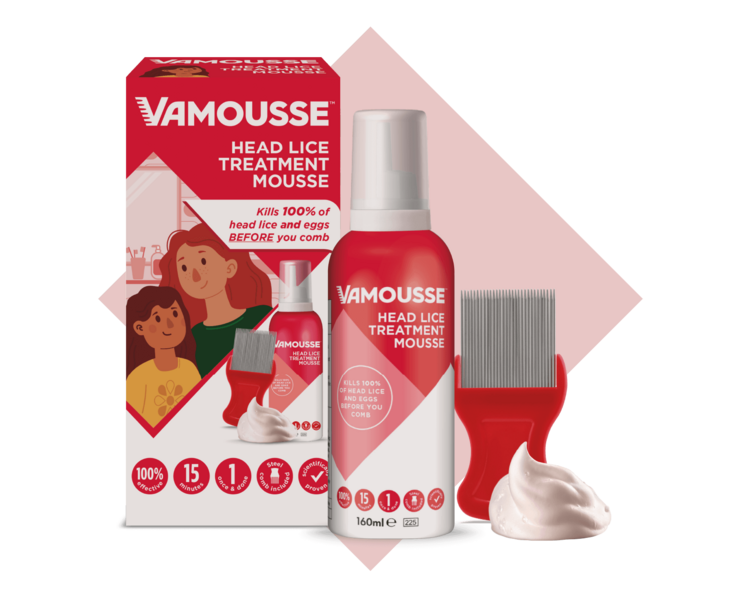 WHY VAMOUSSE® HEAD LICE TREATMENT MOUSSE?
Vamousse® is scientifically proven to kill 100% of head lice in 15 minutes.

1

82% of people who used Vamousse® said it was easier to apply than some other treatments.2
Vamousse® is a unique formulation that can be used with one simple application.

1
NOTHING ELSE IS FORMULATED LIKE VAMOUSSE® 3
The advanced formula of Vamousse® disrupts the protective lipid layer of the adult louse, rapidly delivering the active ingredient natrum muriaticum (sodium chloride) to the louse body. This causes a rupture of the intestinal tract, followed by dehydration.4 Eggs are similarly dehydrated, rendering them unviable.5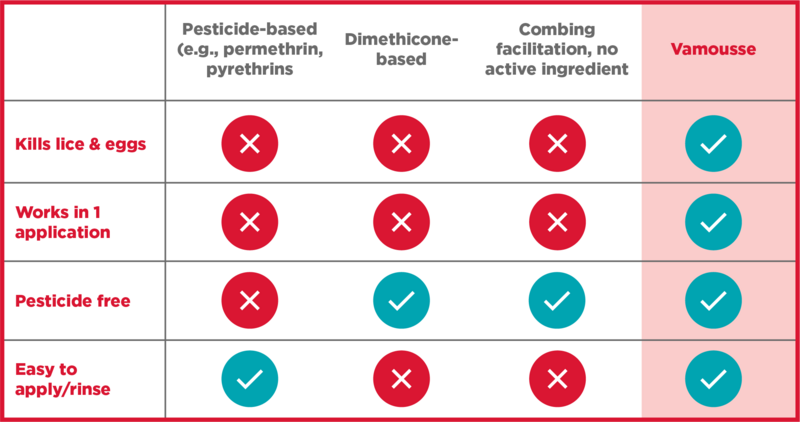 Classification
Vamousse® Head Lice Treatment is a Class IIa Medical Device
Composition
1 package contains 160ml Vamousse® Head Lice Treatment Mousse, a steel comb
RRP £14.99
Purchasing information for pharmacists
Vamousse® Head Lice Treatment Mousse can be purchased from wholesalers in the UK using PIP-CODE: 388-2750
THE SCIENCE BEHIND VAMOUSSE®
Scientific studies
Vamousse® Head Lice Treatment was tested using internationally recognized ASTM testing protocols.6 Following these industry standards, the products were tested in the laboratory on head lice and head lice eggs collected from volunteers in South Florida. Lice in this geographic area have been extensively documented to have developed genetic resistance (99%) to the traditional head lice treatment active ingredients, pyrethrin, and permethrin.7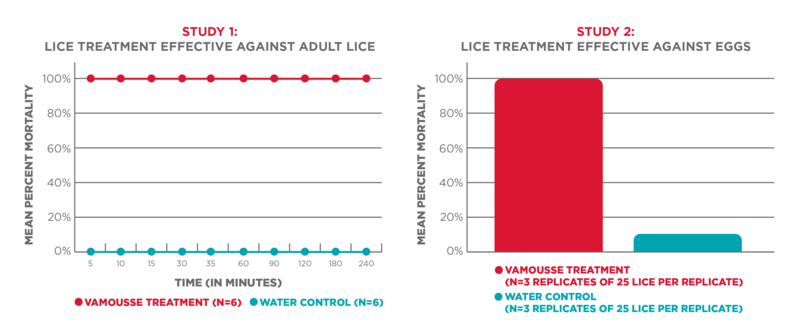 The test exposed the lice to Vamousse® Head Lice Treatment for 15 minutes, as per the product instructions, followed by a warm water rinse.
100% of treated head lice were confirmed dead 24 hours after this single application.
View References
Close References
Data on file – Vamousse® Head Lice Treatment Efficacy Study Summary, Appendix H – EFF01–2017 Rev 1.
Market Research (n=17)

2

A comparison of competitor products has shown that no competitors have the same formulation as Vamousse®
Data on file – Market Research Full Results – ETF041 V5
Serrano L, Decesar LS, Pham L: Evaluation of the efficacy and safety of 1% sodium chloride against 1% permethrin creme rinse on head lice infested individuals. Pharmacology & Pharmacy 2013, 04:266–273.
Krader CG. Effective pediculosis management in the era of pesticide-resistant lice (whitepaper). Drug Topics – Voice of the Pharmacist. 2018
Yoon, K.S, et al. Knockdown resistance allele frequencies in North American head louse (Anoplura: Pediculicide) populations. J Med Entomol 2014;51:450–457.